Back
Debts
Many people experiencing economic abuse end up in debt either because the abuser has created debts in their name, or the abuser's behaviour has led to a reliance on debt to pay for necessities. If someone you know is struggling with debt for any reason, let them know help is available.
When faced with unmanageable debts, it is very common for people to try and ignore the problem. This is a normal reaction, however it is important to take action to prevent things getting worse.
If someone is unsure where to start, they can talk to a financial counsellor or call the organisation/s they owe money to and ask to speak with their 'hardship team'. Letting the credit provider know about the 'financial hardship' being experienced triggers certain rights under the National Credit Act, such as negotiating a different repayment arrangement.
A 'hardship team' will likely ask questions about a person's existing expenses and income, so it is a good idea to have as much of this information ready as possible when you call. If a person doesn't have this information because it has been kept from them, don't let this put them off calling, and let the credit provider know that these are the circumstances.
If someone has been experiencing coercive and controlling behaviour from a partner and they have money concerns, they may unknowingly have debts in their name. To find out, they can get a copy of their credit report and look for anything unfamiliar. A credit report includes the amount of money a person has borrowed and credit applications they've made (or have been made in their name). You can read more about Credit Reporting here or at CreditSmart.
Unpaid debts and late payment of debts and bills will likely impact a person's credit rating, which is another reason to address the problem as quickly as possible.
Going bankrupt is usually a last resort and it's important to understand the consequences of taking this step.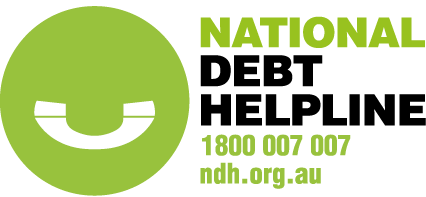 Talk to a financial counsellor.
Free debt relief service for people who are unable to repay their debts.
Read more about how credit reporting works in Australia.